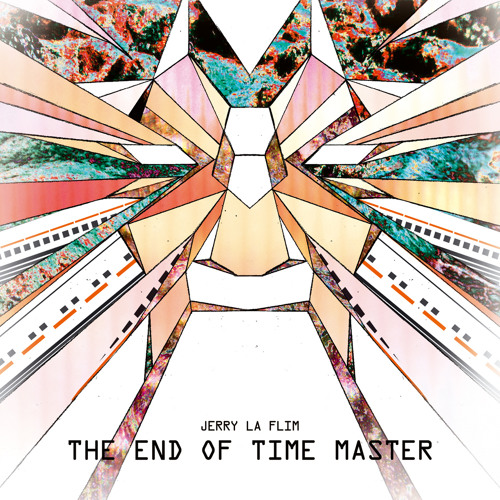 While Body Control accustomed us to Acid Electro/Techno experiments since its inception early in 2014, the Atlanta based label returns with a 100% Electro Funk release! "The End Of Time Master" presents the debut album of mysterious Jerry La Flim. After listening to the whole opus, its hard to believe this is his first shot ever as much as the artist demonstrates a complete command of his machines.
Body Control's uncompromising tenth release opens with beautiful "99 Percent", a perfect introduction to Jerry's melodic universe made of vintage and nostalgic sororities. Warmed up with deep 70's - 80's touches, frantic "7070707" evolves in the footsteps of Parliament Funkadelic, or Midnight Allstar! Beats fed with amphetamine turn the track into an old school funky jam par excellence. Ace!
Bubbling "Androids" coming next combines nice arpeggios with heading distortions, whereas intricate voices bring us back into the glorious days of Electro Funk!
With its untouchable interstellar layers, "Being All Mine" signs a fascinating interlude through space, instantly followed by "Dream Synth", a minimal affair spreading its intricate atmosphere over eerie tones.
The title track "The End Of Time Master", my favorite, is a pure lively cut full of new wave beats and beautiful melodies enhanced by classy yet vintage synth sequences, some epic wah-wah effects in the background reminding of Funkmaster Ozone's Electro style.
Sexy "Holographic" scanning "Jerry La Flim" and "Last Chance" deliver two sophisticated Boogaloo anthems made of urgent 808 drums with lots of slapping percussion. Final cut "Transporter Accident" deals mainly in moody Electro tinged with nice acid lines.
The album comes completed with three awesome remixes: Luke Eargoggle (Brokntoys, Abstract Forms) mutes "Holographic" into a mental gem whereas newcomer Dave Mono and Weakmassive (Bewegung Records) sign both two epic reworks of "Last Chance" exploring pregnant ambiance with a sense of apocalypse that will make you want to move as if it was your last stand.
Creative "The End Of Time Master" is nothing short of a fantastic and refreshing surprise featuring 12 timeless jewels, full of inspiration. Perfect for the dancefloor or for home listening pleasure!
Written by: Chris Nexus 6